KépMásKép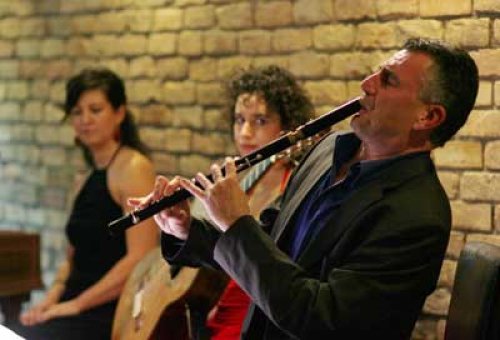 Éva Bodrogi - voiceMihály Dresch - saxofon Katalin Koltai - guitar Miklós Lukács - cimbalom
Jazz Mirror: Barefoot Musicans has been creating cross-over concerts called KépMásKép/Jazz Mirror.
About the first concert:
The concert of the Dresch-Lukács Duo and the Barefoot Musicians is a real crossover, where jazz and classical music play the main role.
Barefoot Musicians, presents the singer, Éva Bodrogi – and the guitarist, Katalin Koltai;
while as for the jazz part
the well established duo by Mihály Dresch - saxofon and Miklós Lukács - cimbalom were playing.
The concert was a combination of jazz improvisations and the beautiful music composed by Handel, John Dowland, Poulenc, Montsalvatge and Monteverdi.
Classical melodies in a real jazz mirror.