CD PARIS-RIO-BUENOS AIRES ¡DE BUDAPEST!
A musical journey
Three musicians in Budapest. Their imaginary destinations: Paris, Rio, Buenos Aires
Three expatriates. Their origins: Paris, Rio, Buenos Aires. Current location: Budapest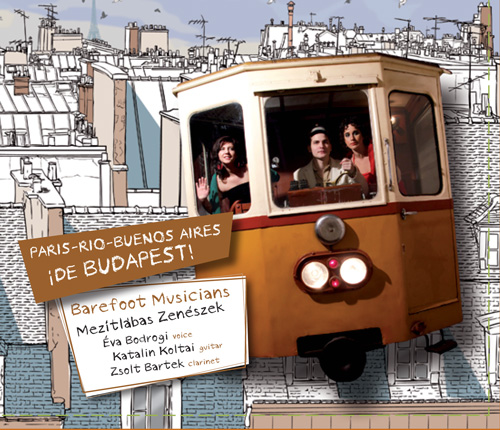 1 - Three expatriates in Budapest
2 - Heitor Villa-Lobos: Etude No.11
3 - Paul Jeanjean: Etude No.7. –Theme
4 - Astor Piazzolla: Café 1930


5 - Erdélyi Mihály: "A Dunaparton este zene szól" –chanson
6 - Astor Piazzolla: Libertango


7 - Jayme Ovalle: Azulao


8 - Alberto Ginastera: Triste
9 - Improvisation á Buenos Aires
10 - Heitor Villa-Lobos: Modinha
11 - Improvisation á Paris


12 - Erik Satie: La Diva de "L'Empire"
13 - Erik Satie: I. Gymnopédie
14 - Improvisation á Rio de Janeiro
15 - Astor Piazzolla: Libertango ¡DE Budapest!
55:17
Musicians: Éva Bodrogi – voice, Katalin Koltai – guitar, Zsolt Bartek – clarinet ; Sound clips: Bálint Bolcsó
Interviewees: Claire Alix Saillard, Pimenta Débora Rúbia, Attila Jeszenszky-Böhm
Recording producer and editing: Tibor Alpár ; Balance engineer: Domonkos Tímár
Recorded at: Kőbányai Zenei Stúdió
Graphic design: Zsolt Nagyvati ; Photo: Zsófia Raffay ; Dress: Kata Bagdi Special thanks to Halas Dóri and Halastó Egyesület.
PARIS-RIO-BUENOS AIRES  ¡DE Budapest!A musical journey
Brazilian composer Heitor Villa-Lobos set out from his homeland, ardently believing himself a modernist. He arrived in Paris, in the world of Montmartre's Années Folles, and soon was rubbing elbows with the likes of Erik Satie and Jean Cocteau. In this new environment, however, his music was no longer considered modernist. Instead, audiences were intrigued by the artist's "exotic" background and the musical traditions of his distant native land. Villa-Lobos eventually became known as "Brazil's national composer, in great part as a result of his experiences in Paris. Thirty years later, Astor Piazzolla – arguably Argentina's most famous composer – arrived to try his luck in the French capital. Now finding himself at the intellectual center of the French composers' group Les Six, the young bandoneón player and tango composer did his best to turn himself into a classical composer, taking classes at the Paris Conservatory. His professors, however, objected to what they found to be a lack of individuality in his compositions. As the story goes, Piazzolla first "discovered" his own style when he reluctantly showed some of his old tango pieces to one of his professors at the conservatory.   The long-standing cultural links between Paris, Rio de Janeiro and Buenos Aires served as inspiration for our musical journey. Our guides for this voyage were some of the most popular Argentinean, Brazilian and French composers from the first 60 years of the twentieth century. Their works also inspired our improvised interludes. As our musical journey unfolded from concert to concert, we noted that the sounds and places of our own hometown, Budapest, became evermore interwoven into the work. We came to understand that we were being influenced not only by the music of the three foreign cities, but also by our own environment as well.   About the interviews and sound clips:
We commissioned the young Hungarian composer Bálint Bolcsó to compose short montages from the Budapest soundscape for this project. In them the listener may recognize the familiar sounds of the local trams, buses, and subway cards, and even bustling Moszkva Square.
Claire-Alix, Attila and Pimenta are the three young interviewees featured here. Each moved recently to Budapest, from Paris, Buenos Aires and Rio de Janeiro respectively. In their interviews, conducted in French, Spanish and Portuguese, they share their thoughts about their new home, and memories of the countries they grew up in.
Order it now!
Buy it in a shop: KALÁKA ZENEBOLT:
1052 Budapest, Bárczy I. u. 10.
Tel./fax: (+36-1) 267-5331 • zenebolt@kalaka.hu 
www.kalakazenebolt.hu