Ditta Rohmann - cellist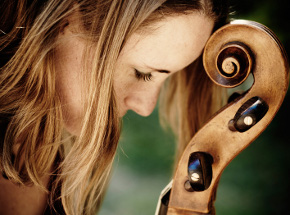 Ditta Rohmann was born in 1983 in Budapest and began playing the cello at the age of 7. She studied at the
New England Conservatory in Boston from 1993-1994 with Suren Bagratuni. After returning to Hungary she
was a student at the Franz Liszt Music Academy from 1995-2005, first at the preparatory department with Ottó
Kertész, later earning an Artistic Diploma with honours as a pupil of Miklós Perényi.
From 2005 she played two seasons at the Zurich Opera on a scholarship, simultaneously completing her concert
and soloist diploma with distinction at the Basel Music Academy in Ivan Monighetti's class.
Since 2008, she is a doctoral student at the Franz Liszt Academy. In September 2009 she was given a teaching
position at the University of Debrecen In Hungary.
Ditta Rohmann gave her first recital in Boston at the age of eleven. She has been playing concerts as a chamber
musician and soloist throughout Europe from an early age. She has had the opportunity to collaborate with fine
musicians such as Peter Lukas Graf, Gergely Ittzés, Keller Quartet, Barnabás Kelemen and Katalin Kokas (with
whom she won the National Weiner Prize), Péter Nagy, Miklós Perényi, Livia Rév, Imre Rohmann, Rainer
Schmidt, Gábor Takács-Nagy and Dénes Várjon. Her regular duo partner is Emese Mali, and together they won
two special prizes at the Il Premio Trio di Trieste international chamber music competition in 2003. They have
played numerous concerts in Hungary and abroad. Ditta has also performed with several chamber and
symphony orchestras, including the Basel Symphony, Mendelssohn, Liszt, Schengen Chamber Orchestra.
Recently she has been playing in the Chamber Orchestra of Europe as a guest. Together with the finnish pianist,
Anna Kuvaja she was awarded a prize at the Orpheus Festival In Zurich In 2008.
Ditta has appeared on several radio, television and CD recordings for labels including BMC, Hungaroton and
Swiss DRS.
Ditta has participated in many international festivals, including Kronberg (where she received a scholarship for 3
years), Lucerne, Santander, and the Prussia Cove International Musicians' Seminar with such renowned
musicians such as Boris Pergamentschikow, Steven Isserlis, Bernard Greenhouse, Natalia Shakhovskaya, András
Schiff, Ferenc Rados and Frans Helmerson.
Ditta has a large repertoire, ranging from the Baroque to the music of today. She has worked and performed
together with the reknown composer Sofia Gubaidulina several times. Ditta h