ABOUT US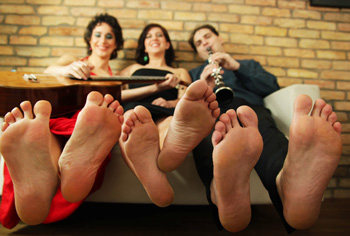 The Barefoot Musicians was founded by guitarist Katalin Koltai and singer Eva Bodrogi in 2006. Clarinetist Zsolt Bartek joined the group as its third permanent member in 2009.
The ensemble is founded on the notion that one's approach to music should always endeavor to be fresh and unencumbered -- hence, barefoot.
Through their years of formal training the musicians and collaborating artists have absorbed the traditions and foundational knowledge of their craft; still, their chief aim is to approach their music/art in the spirit of play, experiment and discovery, and to transmit this enthusiasm to a broader audience.
The ensemble share a passion about new music and the creation of interdisciplinary performances. They strive to bring the works of contemporary composers to the stage, as well as showing older works in a new light by playing them in combination with related modern pieces.
The goal of the three musicians is to provide artists from diverse fields opportunties for creative work and self-expression. Their projects, which have included chamber music, interdisciplinary performances, youth projects, and forays into contemporary experimental music, all aim to foster the open and candid – and thus "barefoot" - communication so vital to beginning a dialogue between artists and audience members of diverse backgrounds, as well as to making classical and contemporary music accessible to and enjoyable for a wider audience.